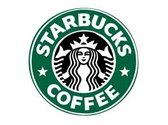 We love Starbucks Coffee! Starbucks and their customers have supported the Becca's LEGacy Toy Drive since its inception, donating thousands of new toys to children with cancer. Over 50 Starbucks locations have collected toys for Becca's LEGacy. Way to go, Starbucks!

---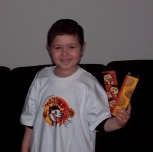 These were Becca's favorite cookies. Alternative Baking Company has continued to support Becca's LEGacy and the CureSearch Walk each year, donating delicious cookies for all to enjoy. And, they're vegan, too!
---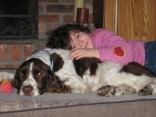 This is a picture of Becca and Max. The Max, Annie, Tak, Trini, and Ollie books are wonderful adventures featuring these lovable dogs. Annie Loses Her Leg but Finds Her Way is a beautiful story of strength and resilience. This book, along with her plush Annie, helped Becca through many procedures, including the loss of her own leg. She also befriended these very special Miracle Dogs.
---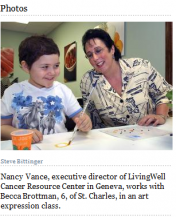 LivingWell has been an incredible resource to Becca and our entire family. Becca, her mom, and her brother all attended art classes and support groups there. Additionally, they have been a support in dealing with our grief.
---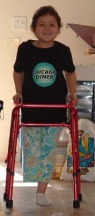 Chicago Diner was one of Becca's favorite restaurants. When Becca was hospitalized, unable to eat much, a sip of a Chicago Diner vegan chocolate shake would cheer her up a bit!
---

This is Becca with Brooke. Brooke is an amputee doll, with prosthetic legs. Sew Able makes these special dolls, as well as dolls "going through chemo," that are bald and come with a bandana, hat, or wig. Becca was able to have a couple of dolls to love that were just like her, as well as their "accessories" (a wheelchair, crutches, therapy equipment), thanks to Sew Able.
---

Please join us in supporting CureSearch. CureSearch funds lifesaving research for childhood cancer. Help us work toward cures.
---

In this picture, Becca is enjoying her Bear Hug, a day at the American Girl Store, given to her by Bear Necessities. Bear Necessities provides family support and Bear Hugs (wishes), and funds childhood cancer research. Thank you, Bear Necessities!

---