Our Mission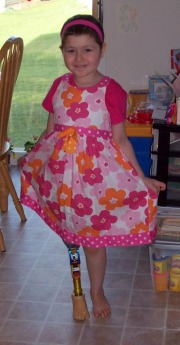 Becca's LEGacy began out of Becca's wish to have her own foundation to help other children with cancer.

When we asked Becca what she wanted her foundation to be about, she told us that she wanted to raise awareness about childhood cancer, help find a cure, and give toys to hospitalized kids with cancer to help

them

feel

better.

Her final wish was that we carry on with her dream and "do her foundation."
Our mission began while Becca was still here.

During her "well" year, between rounds of cancer, she initiated a toy drive to bring new toys down to the hospital.

She and her brother also helped raise money for LivingWell Cancer Resource Center by selling things at a garage sale.

One of Becca's pet peeves was seeing pink ribbons everywhere, but no gold ribbons.

"Why don't people think childhood cancer is important?" she questioned.
Since we lost Becca, in September 2008, we have continued with annual toy drives and are fundraising for CureSearch, to help find a cure for childhood cancer.

By sharing her story, we hope to raise awareness about the reality of childhood cancer and the need for a cure.




Our mission is to ACT now for Becca's LEGacy.
Awareness

- Raise awareness about childhood cancer.
Cure

- Raise funds for research to cure childhood cancer.
Toys

- Collect new toys to give to hospitalized children with cancer.
---

Our Name
We are "Becca's LEGacy" for several reasons:


-To remember the harsh reality of the cancer which began in Becca's leg and took her leg and life;
-To remember the strength, courage and love of life Becca taught us through her incredible attitude and resilience.

"I'm sad I had to lose my leg, but I'm not going to let anything slow me down!"
-To fulfill Becca's dreams and continue her legacy of love and caring.