Welcome to Becca's LEGacy
Childhood Cancer Organization
Becca's LEGacy began with the dream of one little girl, to help other children like her, with cancer. We invite you to be a part of Becca's LEGacy.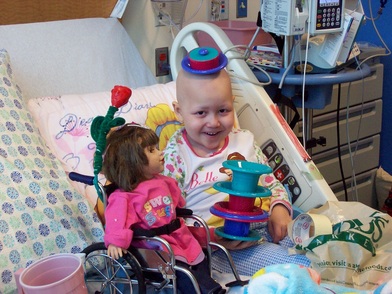 Childhood: Fun. Dreams. Playful. Smiles. Free. Happy. Laughter. Creativity. Joy. Carefree.

Cancer: Fear. Uncertainty. Illness. Pain. Hospitalizations. Procedures. Chemo. Sadness. Surgeries. Limitations.

Becca: Hopeful. Resilient. Loving. Courageous. Strong. Giving. Vivacious. Inspirational.

Childhood and cancer shouldn't go together. Let's work together to make a difference in the lives of children with cancer. That was Becca's final dream.


---
The 11th Annual
Becca's LEGacy Toy Drive
​for 2018 is here!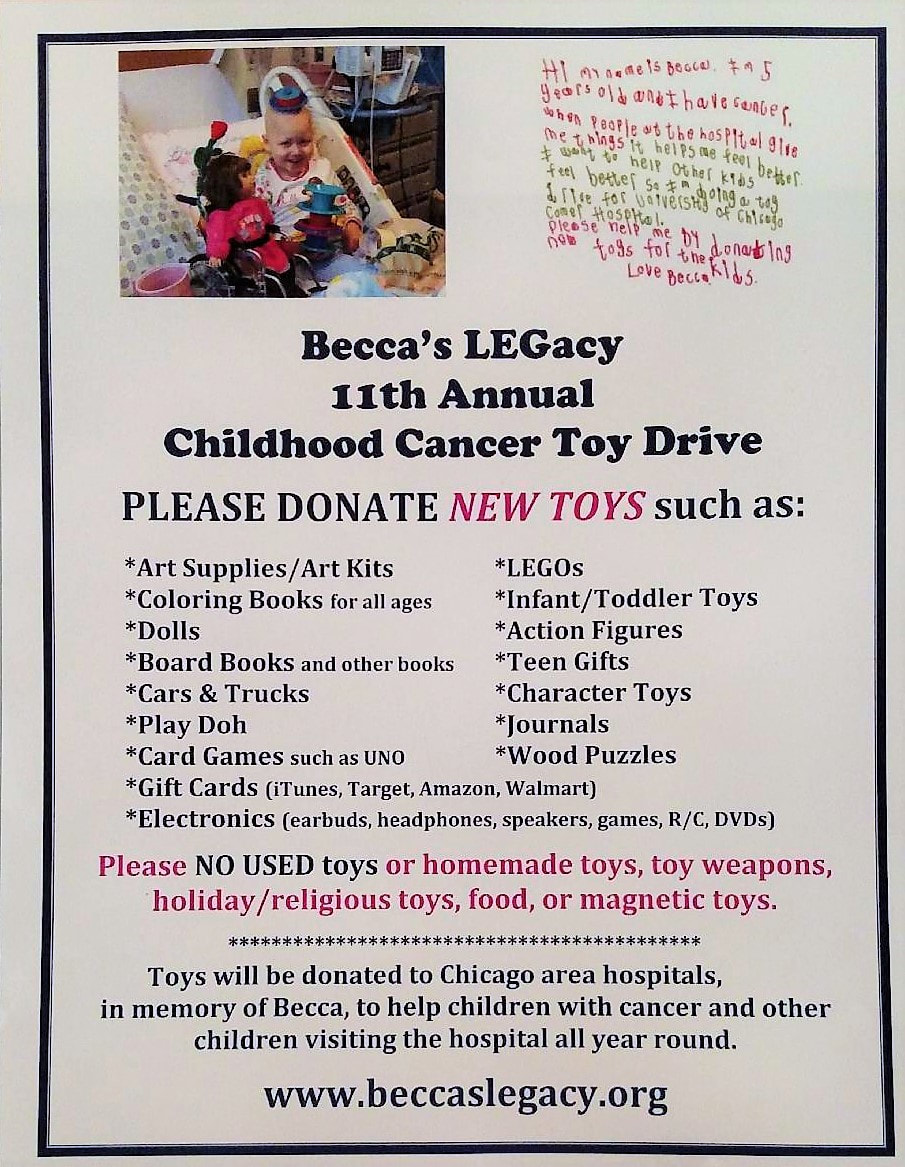 ---
You can now contribute toys
through our Amazon Wish List!*
www.amazon.com/gp/registry/wishlist/3G6P01GKPPWS7
*The small print: Contributions are not tax-deductible. We are not a 501(c)(3).
If you cannot get into the list through the link, please go to Amazon and search for Becca's LEGacy under
Lists and "Search for a List or Registry." Thanks!
Drop off new toys thru December 26th at:

Starbucks (location below)

Learning Express Toys in Geneva Commons

​Northern Illinois University Founders Memorial Library (thru Dec. 12th)

Houlihan's in Geneva Commons

Salon on State in Geneva

The Village Squire Restaurant in South Elgin

Goodrich Quality Theaters Randall 15 in Batavia

Town and Country Library in Elburn

Messenger Public Library in North Aurora

Glencoe Public Library

Northbrook Public Library

St. Charles Public Library (Dec. 9th-Dec. 23rd)

Classic Cinemas Charlestowne 18 in St. Charles

Dreams Dance Academy in St. Charles (in December)

Elite Extrusion of St. Charles

​Bema of Elmhurst

​Starbucks Locations:

Arlington Heights: 1808 S. Arlington Heights Road (Arlington Heights & Golf)
Arlington Heights: 33 S. Evergreen (Downtown Arlington Heights)
Arlington Heights: 1802 N. Arlington Heights Road (Arlington Heights & Palatine)
Des Plaines: 1427 Lee Street (Oakton & Lee)
Des Plaines: 2655 Mannheim Road
Elk Grove Village: 934 Busse Highway (Busse & Landmeier)
Elk Grove Village: 102 Biesterfield Road (Biesterfield & Wellington)
Geneva: 1302 Commons Drive (Geneva Commons)
Geneva: 1141 S. Randall Road (Randall & Fargo)
Mount Prospect: 195 W. Rand Road, #A (Rand & Route 83)
Mount Prospect: 90 E. Northwest Highway (Northwest Highway & Elmhurst Rd.)
Niles: 9483 N. Milwaukee Avenue (Golf & Milwaukee)
Rolling Meadows: 1414 E. Golf Road (Golf & Algonquin)
Rosemont: 9500 W. Higgins Road (River & Higgins)
Saint Charles: 1990 W. Main Street (Randall & North/Main)
​Saint Charles: 3830 E. Main Street (Charlestowne Mall)
South Elgin: 338 Randall Road (Randall & McDonald)

Thanks to all who have helped our toy drive through donations of supplies:
*Button Man Printing of St. Charles
​ *AlphaGraphics of St. Charles
*Castle Printech, Inc. of DeKalb
*RBS Packaging of South Elgin
*123Print
*Learning Express Toys of Geneva

Thank you to all of our donors and to the businesses accepting toy donations.
We couldn't do it without you!
A parent of a child who received a gift from Becca's LEGacy, said:
"Thank you for what you do! My son was the lucky recipient of a couple of gifts today at the Proton Center. He is there for treatment every weekday right now, and today happens to be his 14th birthday! Our drive was awful this morning, and going for radiation is not what he would choose to do on his birthday, but this made the day a bit more special. We truly appreciate it!"
Your donations make a difference!
​​
Our first toy drive flyer, by Becca, from 2006.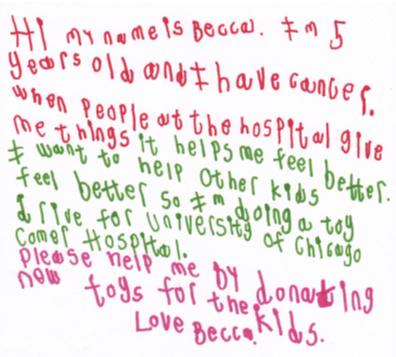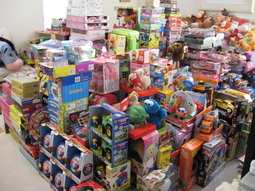 In addition to our annual toy drives at the end of the year, we invite you to contribute to our ongoing toy drive. Providing new toys to children helps brighten their days and make hospital visits easier. Childhood cancer is all year round. We accept new toy donations anytime. Some ways to contribute are:

*Have your company host a Becca's LEGacy Toy Drive any time during the year.
*Host a toy drive as a scout or team project.
*Collect new toys at a party, picnic, or any other social gathering.
*Encourage your school or student council to host a toy drive.
*Encourage your place of worship or religious organization to sponsor a toy drive.
*Collect new toys in your neighborhood.
*Tell your family and friends about Becca's LEGacy.

For more information, please contact Francine through the "Contact Page."
---
Please check back here and on our Facebook page for future events.

Thanks to everyone who has supported Becca's LEGacy
and children with cancer!